Our highly experienced team performs an in-depth analysis on the methodology for document processes management  by identifying the key aspects for optimal knowledge management within your company. For this reason, we design the optimal framework for processing documents specifically tailored to the needs and detect the internal functioning of the organization.
The result is a significant improvement in the efficiency of the company, providing faster and adequate access to all the company information.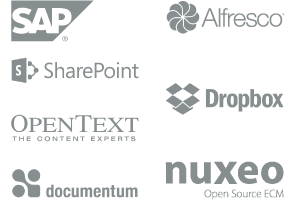 IMPLEMENTATION OF DOCUMENT MANAGEMENT SOLUTIONS

Intelligent Documental Management
The system can Identify and classify your documents automatically and extract your information. It allows the independence on the will of users or even wasting time on repetitive types that do not add value.
In this sense, we are Partners gold as a tool of open source features with intelligent and integrated solutions in the market through standard protocols
As we incorporate documents, the treatment of auto classification tool generates more knowledge and the management allows  to provide classification based on this knowledge. A  functional example could be the incorporation of a new document whose related expedient may be suggested by the system by following the preset criteria.